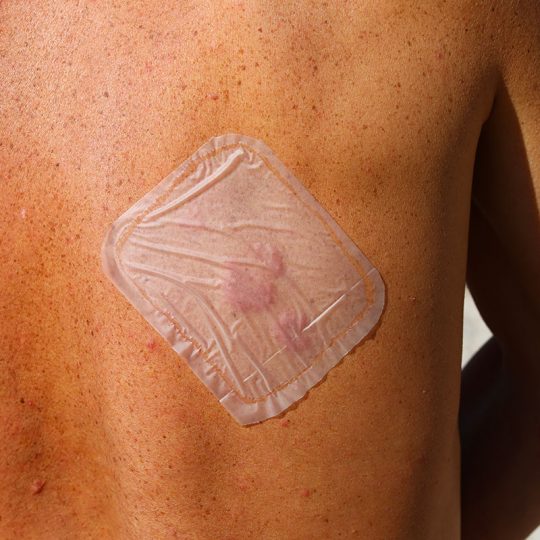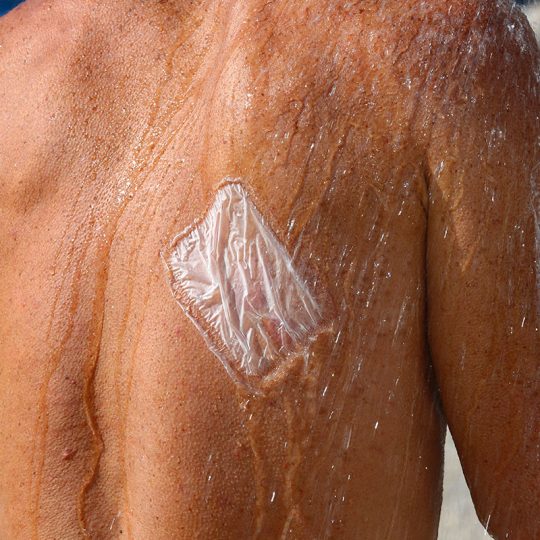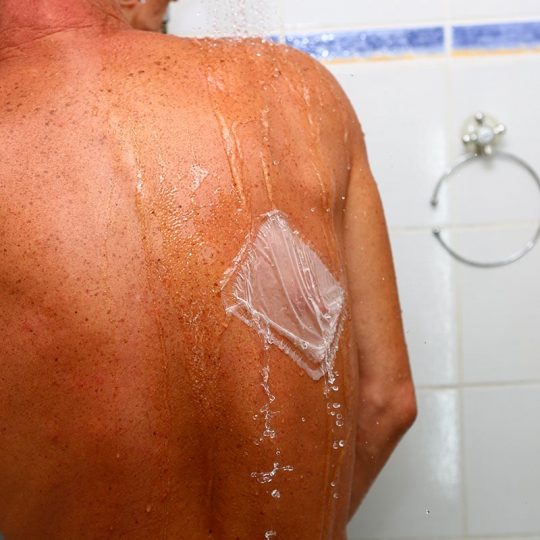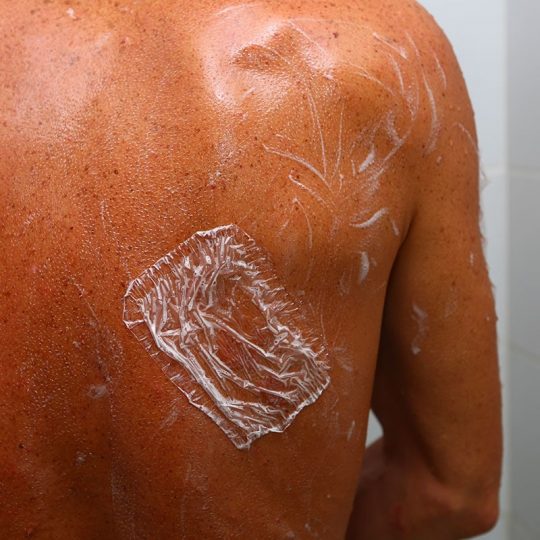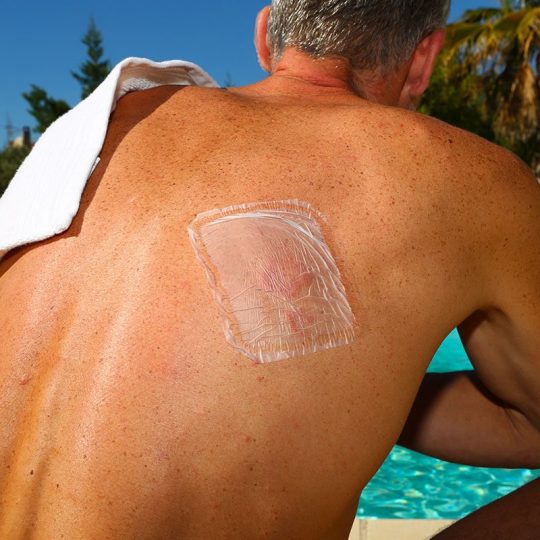 ⌄ Specifics

⌄ Protocol

⌄ Secuderm Benefits
Atopic Dermatitis | Contact Dermatitis | Psoriatic plaque
Dermatitis is a skin disease. They can have multiple causes.
Contact dermatitis is a localized rash or irritation of the skin caused by contact with a foreign substance.
The inflammation of the affected tissue is limited to the epidermis (outer layer of the skin) and the upper layer of the dermis (under the epidermis).
It is characterized by swelling of the skin, with red patches and spots, papules (small red pimples), which give the skin a granular appearance.
Medical treatment usually consists of lotions, creams or oral medications.
Unique cream-gel protective dressing without sticking.
Allows to protect the cream of care without spreading it, nor to absorb it, while letting breathe the reached zone.
Prevents bacterial superinfections favored by scratching.
Adapted to all the difficult zones: elbows, knees, fingers, hands, toes…
Allows to take showers and baths.
Allows to apply the cream and to get dressed during the day, without dirtying the clothes.
Facilitates the daily life of children and parents.
Secuderm, ce sont les patients qui en parlent le mieux.
---
Monsieur,

Après la pose d'un cathéter en vue d'une dialyse péritoneale automatisée, j'ai bénéficié pendant toute la durée de ma cicatrisation d'un pansement Secuderm qui m'a permis de rester digne (pouvoir me doucher seul). C'est pourquoi, je remercie l'hôpital de m'avoir fait profiter de ce produit.
---
Grâce à vos pansements nous sommes allés à la plage en toute sérénité ! Ni peur de l'eau, ni du sable qui s'engouffre partout en cas de vent ! Et c'était le cas aujourd'hui ! Il faut savoir que c'était la première fois que Jeanne voyait la mer et pouvait en profiter ! Elle a 4 ans… Alors encore un immense merci !!!
---
Nous n'avons pas de mots pour vous remercier! Elle a pu prendre des bains, jouer avec la sable, s'éclater dans l'eau avec sa soeur. Nos coeurs étaient remplis de joie en la voyant pouvoir enfin profiter de l'eau sans soucis. Je crois que les images parlent pour elle même.
Nous sommes convaincus que le jeu libre dans l'eau aide à construire des expériences sensorielles essentielles pour son développement et avant nous étions malheureusement obligé à l'éviter.
La mise en place est devenue très rapidement assez simple et finalement pas de cris pour l'enlever. Nous avons jamais eu de problèmes de fuites.
Encore un très grand merci, Secuderm est devenu un objet indispensable dans la vie de Lia, cet hiver elle pourra même commencer la physiothérapie en piscine!!
---